Of the great number who prospected subsequently to '49 but a very small portion found claims that paid them for their trouble, while hundreds barely made a living. This was not, however, on account of the mines having become exhausted, but can be attributed to their manner of working, or prospecting. It was a common sight to see many tramping around among the hills, carrying their picks and shovels on their shoulders, in search of a suitable spot where they could strike it rich, but where the soil was not too deep, and this class of prospectors could very seldom find a claim worth working ; for if they even ventured to sink a hole, it was generally of such a size that no idea could be formed of the nature of the bed rock or of what it contained.
As an illustration : Two miners on their way to work one morning encountered a tall, middle-aged man, sitting by the road-side lamenting his sad fate. He said that he had left his family upon his little farm in the State of Illinois, and had come to try gold mining, but couldn't find enough to enable him to live, and was very anxious to return there again. He said that he had dug and rejected in many places, but could find nothing. He led the way to a ravine near at hand that he had been at work in for quite a spell, he said, " but thar warn't nuthin' thar," and we found that he had started to sink a number of holes. They were about four feet across upon the surface of the ground, but contracted as they approached the bed rock, coming to a point finally. He was asked if this was his method of working in his fanning operations. " Wall, I reckon not, but thought it might do here."
Upon suggesting to him the necessity when sinking a hole of keeping its full size to the bed rock, especially in a ravine of that character, he concluded to act according to the advice, and sure enough he found that he had run across a very fair claim, from which he succeeded in getting gold enough to take him back again to his Eastern home.

Another man dug a hole in a shallow ravine, the ground being only about three feet in depth; he found that the bed rock was descending towards the center of the ravine. He dug another hole adjoining, and discovered that the bed rock inclined towards the first, the channel being between the two, and the place where gold would be found if there were any there. He did not, however make a connection between the two holes, as he ought to have done, as he was told by an old miner who passed that way ; but left the wall about six inches in thickness between them. The consequence was that the aforesaid old miner who had given him the advice was passing the place a few days afterwards, and, finding that it had not been acted upon, commenced to investigate that six-inch wall, and discovered a very rich lead from which he took in a few days about $1,000.

It may be as well to explain here the general nature and character of the gold deposits found up to this time. These deposits consisted of such as were found among washed, or quartz gravel, and were confined to the hills or gravel claims ; as well as in rivers, creeks and in such ravines where the gold was deposited by the action of water, there were what were termed benches also. These were formed by a breakdown from the original river beds, and usually contained beds of gravel found upon the side of the hill below the level of the ancient beds, in slides which were formed by the sliding down of a portion of a hill. In all ravines, creeks and gulches also, the gold found was what is termed washed gold, showing evidence of having been at some time amongst the gravel of a running stream. Upon the various flats, the gold was of a similar character and found with quartz gravel, showing that these flats had at one time formed the bed of some creek or running stream. There were some peculiar gold deposits again that differed entirely in their nature, and had an altogether different origin. The former deposits alluded to as being in rivers, creeks, ravines, gulches, flats, slides and benches, were all supplied from the beds of ancient water courses, which had been in course of time broken up and thrown down, the gravel washed and scattered by the action of water to where it is now found. Among the red hills in the mining regions are found what are termed "red hill leads." The gold in these is rough with sharp edges, and has never been in contact with gravel or running water, The leads are generally very narrow, in some cases being not more than an inch in width, and are found almost invariably in small, narrow and dry ravines; and upon the hills above and in the vicinity will be found quartz ledges which indicate their origin.
Among these leads, quartz in a partially decayed state will often be encountered, with the appearance of having been at some time in contact with great heat. It is very evident therefore, that these streaks of gold, or leads, were deposited subsequent to the great convulsions which broke up the ancient river canyons, and still remain in their original position as when melted from the quartz ledges, which were broken up and distributed in this manner among the ravines. There are also found among the ravines large deposits ofclay of various colors ; but as a general thing, either blue, red or yellow. Very rich deposits are often discovered mixed with or beneath this clay.
The fact that rich gold deposits oftentimes existed beneath these beds of clay was discovered in the spring of '50, Three or four young men, who had just arrived in the mines, prospected a piece of ground located at the junction of two ravines, in what is now known as Clay Ravine, just below the Pacific quartz Mill, near Hangtown. They found, upon sinking a shaft about eight feet in depth, a bed of blue clay. It was dry and hard. Presuming, therefore, that it was bed rock, they abandoned the place. A young man residing near, named Williamson, and an Irishman, by the way, from curiosity concluded to sink down through this blue clay to see what was underneath. The miners who were at work in Oregon Ravine, a short distance below, heard him yelling out at the top of his voice: "Say boys, jest come row an' see what I have found under this clay, be jabers!"
Upon going up to the claim, we saw on the ground a hard chunk of clay, about the size of a water-bucket, taken from the bedrock, and the under surface was one mass of gold. It was taken to the Express Office, pounded up and found to contain $1,500; but how much he got from his claim in total was unknown to us.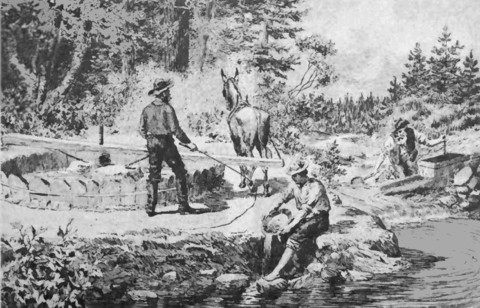 Early Day Mining Scene