Many persons were now continually coming into the mines, stupendous frauds were being perpetrated upon them in and the sale of mining claims. One very enterprising individual who had drifted into the low red hill or slide in the hope of finding a lead, being disappointed, loaded his shot-gun with gold dust, and discharged it at the hillside in various places. Upon finding a newcomer who desired to purchase, he was requested to take a pan and prospect for himself, which the victim would often do with remarkable success. He, however, saw the joke after he had bought the mine, and procuring a shot-gun played the same game on some other chap ; and I'm not sure, but I think that their descendants have inherited the same habit, and are yet shooting and selling old claims. One sale of a mining claim is worth mentioning. It was a rich piece of ground in the lower part of Hangtown, and located on a rich lead. A chap who had been hard at work for nearly ten days stripping the top dirt from his claim, about fifteen feet square and ten feet deep, prospecting a pan of dirt in one corner and finding nothing, concluded to sell it, if possible. Presently along came three or four young men who had just arrived, and he proposed to sell it to them, explaining that there was good pay a little deeper. They paid him his price—one hundred and fifty dollars—and early next morning started in to work. By 3 P. M. they were down to bed rock in various places, and water being handy they washed a pan just for curiosity. The seller of the claim, who lingered around to see how badly he had fooled them, was, when he saw them wash out pan after pan, containing from ten dollars to twenty dollars, fifty dollars, and one hundred dollars to a pan. He was the most disgusted man in California. He tried to buy it back, and offered five hundred dollars for it. They took out in about five days nearly $7,000, and this was their first mining venture.
The winter to '50-51 as before stated was a very dry one, and there was hardly water enough to run a tom. Consequently the summer of '51 was very dry, and the dry diggings throughout the country were almost entirely deserted. This season saw large amounts of gold dust taken from the river beds of the Yuba, Feather and Bear Rivers, as well as in the various forks of the American, and also in the streams in the central and lower portions of the State, Small towns were now being started in the various mining districts. School-houses and churches were conspicuous among all, and the country was now, more than ever, assuming the appearance of civilization, to the great disgust of the border-ruffian element, one of whom was heard to remark:
"That if these Yanks didn't stop with that prayer" nonsense of fooling away their time with school an' prayin' shebangs, the whole country would go to h—!.'' But time has since proved that he lied.
The emigration of this fall was larger than that of the year previous and was that of a better class, consisting principally of families, many of whom were from States east of the Mississippi. A bulletin board, or, rather, a book for registering the names of the newly-arrived emigrants in order that friends and acquaintances could learn of their destination and location, was put up. Many amusing incidents occurred in the search for those who had previously arrived. A young man, having just arrived, made inquiries among the various barrooms and hotels for his brother, who had, as he was informed by the bulletin board, come across the plains this season. The young man was from Ohio, and his older brother had left home some twelve or fifteen years previous. The new arrival, therefore, was very anxious to find his brother. The train with which the young man had just arrived was under the control of a man from New Orleans called the Colonel, his real name not being known by any one upon the train. In making inquiries in one of the barrooms, with the hope of finding same one who could give him the required information in regard to his brother, a gentleman from New Orleans, who was present, remarked :
"Why, the man you're inquiring for, the Colonel, is here in town, and I saw him not ten minutes ago over there in that drug store.''
The young man went over and saw the Colonel, with whom he had crossed the plains, in the store, and of course mentioned the reasons for his coming in as directed.
"Well," said the Colonel, " what was your brother's name ?"
" His name was William B. Richards."
"Well," rejoined the Colonel, " that is my name."
Sure enough, this Colonel with whom he had crossed the plains was the long-lost brother!
After the commencement of the rainy season, in the fall of '51, the river miners walked into the placer mining districts. Other arrivals from across the waters, soon swelled the population in all of the various mining camps. Gambling in all of its various forms became again the principal amusement. Bar rooms and gambling houses vied with each other in furnishing their patrons with the finest and loudest music, and bands could be heard playing in all of them during the greater portion of the evening, and until the wee small hours of the morning. The professionals were as a general rule Southerners by birth, hailing from New Orleans, Louisville, Memphis, Richmond and St. Louis; whilst only occasionally would be found a sport claiming Boston or New York as his birthplace.
Many of this class were men of good education and abilities, and many of them descendants of respectable families as well. They had been accustomed from childhood to associate with this class in their native cities, and therefore inherited or acquired the gambling trail of character. It is of course well understood that all men who gamble for money are necessarily very bad characters; but the professional gambler of early days formed, in many instances, an exception to this general rule, and should not be confounded with the lower ten-cent ante poker gambler found bumming and loafing around the gambling places of to-day. Among this former class were as many good, honest and square-dealing men as could generally be found among those engaged in any other business, and they were, as a rule, more charitable, being always ready to contribute their share, and a little more too, towards assisting those who were in distress.
In the spring of '52,many who had succeeded in accumulating a sufficient amount of gold turned their attention to the cultivation of land, and to stock raising in other portions of the State; and throughout the summer, ranches were pre-empted and located in many of the lower counties, for the very important discovery had now been made that a portion of California, at least, contained land suitable for agriculture. Up to this time, however, but very few people came with the intention of remaining, the principal purpose being to acquire a sufficient amount of gold, and then to return as soon as possible to their Eastern homes. However to thousands this quick return home was a delusion and a snare; for just how to return, or how to acquire the necessary means for so doing, was a conundrum that they endeavored to solve, but in many instances were finally compelled to give up.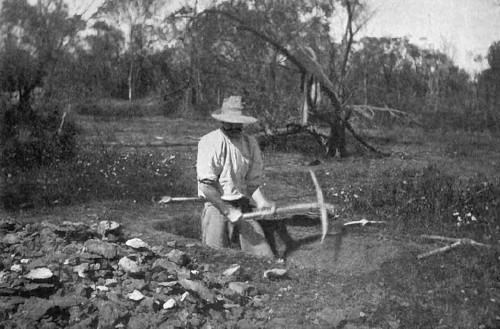 Digging For Gold