After much inquiry, we have determined to go, for our next mining season, to the southern mines. We are led to this determination chiefly on account of the better health enjoyed there. Our journey from Stockton to Mariposa, a distance of one hundred and twenty miles, was accomplished between Oct. 27th and Nov. 15th.
We took our own provisions and cooking utensils with us, there being few eating tents on the way. After three days' travel the rainy season set in, and we found it necessary to pitch our tents—sometimes doing this in the mud, spreading down our blankets upon the wet and cold ground, there to remain for two or three days. After we had crossed the plain of the San Joaquin and entered among the mountains, we had fine scenery and beautiful sunsets. Our guide was endeavoring to take us by a new track to the mines, and on our march, Nov. 2d, we were lost among the mountains. After a consultation, the guide and muleteers concluded to cross a high mountain, without a path and very steep. In ascending, two of the mules missed their footing, rolling over and over, down the precipitous sides of the hill, till arrested uninjured by some rock or stump. By the time we had reached the summit of the mountain, and passed across an extent of table-land to an abrupt bluff, at the foot of which was to be seen the beautiful Tuolumne, night had crept upon us. With the night came torrents of rain, driving through our thin canvas roof in a shower of large drops.
During the night I was conscious of a sensation of coldness which had completely benumbed me. When sufficiently awake to ascertain the cause, I found that, owing to the unevenness of the ground, I had slid down till my feet were immersed in a cold bath outside the tent. All the next day we kept our tent, amusing ourselves by reading, sewing, and conversing. The morning after, the clouds had disappeared, and the sun rose in splendor. The birds sang their most enlivening songs. It was like our May at home. On walking out of our tents, we perceived the huge foot-prints of the grisly bear at just twenty six paces distant, and there were the holes where he had scratched up the ground in pursuit of the ants and bugs, which he devours with avidity. The centipedes and tarantulas occasioned us no little apprehension and uneasiness. After the rain commenced, we frequently found them between and under our blankets.
We passed, on our way, through '' Fremont's camp," where, a year since, the colonel had a large number of Indians working for him. It is now quite a settlement ; and the very day we passed through, a company of sixty men was organized to pursue and punish the Indians for various depredations lately committed. Finding so little which was favorable in our prospect, we started for Sherlock's diggings, led by new stories of wonderful success. The two brothers Sherlock, who discovered this place, are said to have taken out 830,000 from a small square spot of ground. They went to Monterey to deposit their money and make preparations to continue their profitable labors. While there, in an unguarded manner, one day, they let fall some hints concerning their success. These were not lost upon two sailors belonging to a man-of-war then lying in the bay, and who happened to be present. They returned on board, asked and obtained a furlough for seven weeks, made their preparations, and when the Sherlock's started, they started also. It was not long be fore the Sherlock's suspected the purpose of the sailors, and, to elude them, very quietly arose at midnight, packed their mules, and silently proceeded on their way. What was their surprise in the morning to find their pursuers still following them. Every means was resorted to in order to avoid them or mislead their search, but all in vain. They were always there. Seeing that they were ''in for it," they made a virtue of necessity, took the sailors with them, gave them valuable instructions, and every assistance in their power. A few weeks since, and before the expiration of their furlough, the two sailors returned on board with ninety pounds of gold.
Here we encountered severe hardships, camping in leaky tents, upon wet and muddy ground, from which we raised ourselves only by spreading down pine boughs beneath us, being chilled with the cold rain and snow. Yesterday a friend was seated by me upon a log at the opening of the tent. "Oh My" said he, "let me be at home with my wife and little daughter, and I will live on one meal a day. I have often wondered," he continued, '' how the poor Irish could live in their hovels, but look here at our home! Their situation is Paradise compared to ours ! My wife would cry herself to death if she could see what I suffer."
Nov, 16th. To-day we commenced our labors at Sherlock's, contracting to pay for an old cradle, while the sum total of our first day's labor has been one dollar. One of my companions amused us by telling us, while speaking of the wrong ideas those form of the mines who have never seen them, the advice his father gave him. He told him not to work too hard, but to buy a low chair and a small iron rake, and, taking his seat, to rake over the sand, and, picking up the pieces of gold as they came to view, to put them in a box.
Nov. 17th. The sum total made to-day is 25 cents; and this when provisions are selling at $1.25 a pound, with the prospect of being still higher. We returned this evening to our camp tired and hungry, and, finding very little here to eat, have put on a kettle of acorns to boil, upon which, with a little venison, we shall make our supper. There are many depredations committed by the Indians. Mules are stolen, and driven away to be eaten.
Nov. 19th. To-day we have made 50 cents each. This evening, as I was passing through the village on my way to the trading-tent, I perceived an old, drunken sailor cooking some nice steaks from the grizzly bear. I had never yet tasted the meat, and when I expressed a curiosity to do this, a tin plate, with a generous slice of the savory meat, was placed before me on the ground, with a bottle of brandy. The latter I eschewed, while the former I chewed, and found it delicious—similar to young pork. While we were enjoying the feast, the old sailor related to me a remarkable instance of success in his own case a few days before. His account was corroborated by others, who gave me some particulars which he withheld. He was walking, or rather staggering, for he had been drinking pretty deeply, upon the bank, below which the miners were hard at work. As he was thus proceeding, singing as he went, he kicked his foot against a stone, causing it to roll over. Turning around, and at the same time raising his clinched fist, he began to curse the stone, when his attention and oaths were all arrested together, for he saw at the bottom of the hole from which the stone was displaced something yellow and bright. In an instant he was upon his knees, knife in hand, and soon held up a beautiful lump of nearly pure gold, valued at $500. In one week he had drank and gambled the whole away. Such instances as this have given rise to the opinion among the miners that the worthless, drinking, and gambling characters have better success than the sober and persevering laborer.
Nov. 21st. It is now about seven months since my last letter from my family. My feelings may then be imagined when, late yesterday afternoon, I heard there were letters for me at Fremont's camp, eight miles distant, over the mountain. Although suffering greatly from blistered feet, I started early this morning, after passing a sleepless night. Alas! what was my disappointment at finding my letters were from San Francisco, soliciting the votes and influence of our company in favor of the election of a candidate to some office I Indeed, it is not surprising that, amid such trials and hardships, so many become disheartened, and resort to forbidden and fatal pleasures and stimulants.
Dec. 1st. Finding all our efforts unavailing, and that none around us were succeeding, we visited Aqua Fria some days since, and have now removed here. There does not appear to be much doing here, but it is a larger settlement, but few now remaining at Sherlock's. It is, on this account, more safe from the encroachments of the Indians, and provisions are more easily obtained. These are, however, constantly rising. Each dash of rain adds one or two shillings a pound to the price of every article. This is owing to the fact that, as the rains render the roads worse, the price for transportation proportionally increases. "We are now paying $1.50 a pound for provisions. The price of a barrel of flour here would go far toward supporting a family at home for a year. Four pounds of hard, moldy bread for our mule cost us about $6. And yet, with these high prices, the miners in the best diggings in the region do not average $1.50 a day. We have not done this well.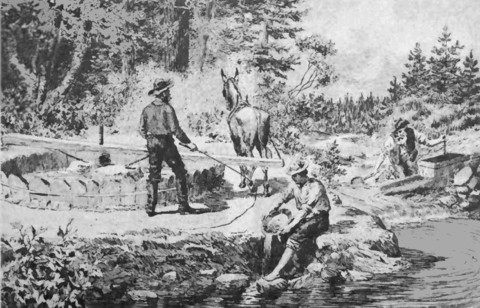 Early Day Mining Scene