.
Chrysotile Mineral Facts:
Chemical Formula: H4Mg3Si2O9
A magnesium silicate, Chrysotile is the fibrous form of the mineral.
Colors: Colorless to white, and light shades of green, gray, yellow-green.
Hardness: 3.0 to 4.0
Hardness is variable because of small amounts of contained harder minerals like Olivine (peridot) from which the chrysotile is derived.
Density: 2.5 to 2.6
Cleavage: Conchoidal to splintery fracture.
Crystallography: Monoclinic
Monoclinic (optically). Occurs, however, only in pseudomorphic crystals.
Luster:. It is translucent and silky, nearly transparent.
Optics: (Refractive Index) = b = 1.502 to 1.570 Its refractive indices vary widely.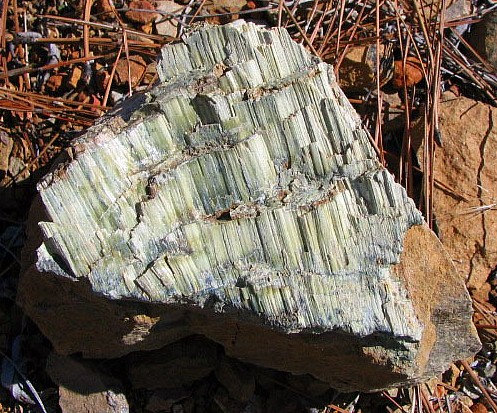 Chrysotile asbestos fibers

Composition, Structure and Associated Minerals:
Serpentine results from the alteration of rocks rich in magnesium, therefore from those rocks containing olivine, pyroxene, or amphibole. Chrysotile is the fibrous form of serpentine. Chrysotile is often delicately fibrous, the fibers are usually flexible and easily separating; luster silky, or silky metallic; color greenish-white, green, olive-green, yellow, and brownish. Chrysotile is often found as seams in serpentine.
Identification and Diagnostics
Chrysotile is distinguished from amphibole asbestos by the presence in it of water. It is decomposed by hydrochloric and sulphuric acids with the separation of gelatinous silica, which, in fibrous varieties, retains the shapes of the fibers.

Industrial Uses of Chrysotile
The fibrous variety of serpentine, chrysotile, is mined and sold under the name of asbestos, which, because of its fibrous structure, its flexibility, its incombustibility, and because it is a nonconductor of heat and electricity is becoming an exceedingly important economic product. It is woven into paper and boards that arc used to cover steam pipes, and to increase electric insulations, and is manufactured into shingles. It is used also in fireproofing, in the manufacture of automobile tires, in making paints, and as a substitute for rubber in packing steam pipes.
The uses of asbestos depend upon its fibrous, flexible structure, which allows it to be woven into cloth, felt, etc., and upon its incombustibility and slow conductivity of heat. Asbestos products, therefore, are used for fireproofing and as an insulating material against heat and electricity.
The fibrous variety, chrysotile, has been found in the Province of Quebec, Canada, just north of the Vermont line; from Vermont; New York; New Jersey; Grand Canyon, Arizona, California, etc. Chrysotile was formerly mined in California, Vermont and Wyoming. The production was once large but is now zero. The chrysotile mined in the US comes from masses of serpentine that are cut by many small veins of chrysotile. The whole rock was crushed and the fiber separated out by washing, pneumatic blowing or by some other mechanical method.
Return to the Mineral Collectors Information Page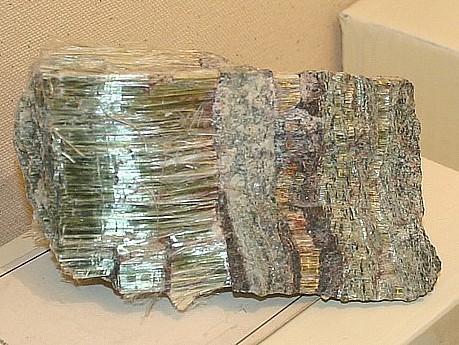 Natural Chrysotile Asbestos