.
Sapphire Mineral Facts:
Chemical Formula: Al2O3
Corundum is nearly always a practically pure oxide of aluminum of the composition Al2O3, in which there are 52.9 per cent Al and 47.1 percent O. The impure varieties usually contain some iron, mainly as an admixture in the form of magnetite.
Colors: Various shades, white to gray, green, blues, purple, yellows, browns, pinks, etc.
Hardness: 9.0
Next to the diamond in hardness.
Density: 3.95 to 4.1
The density is unusually high for a nonmetallic mineral.
Cleavage: None, but separation planes parallel to the basal plane common. Parting basal and rhombohedral, the latter giving nearly cubic blocks.
Crystallography: Hexagonal-Rhombohedral
Crystals usually prismatic in habit or tapering hexagonal pyramids.
Luster:. Adamantine to vitreous luster. Transparent to opaque.
Optics: (Refractive Index): w= 1.7690; e= 1.7598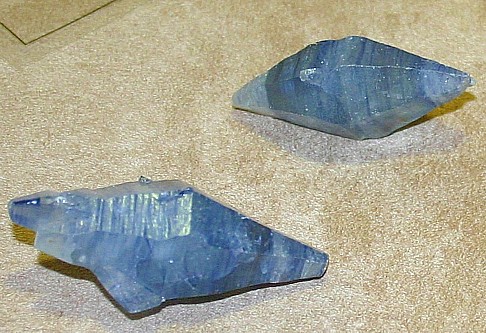 Composition, Structure and Associated Minerals:
Corundum is common in the metamorphic rocks, such as crystalline limestone, mica-schist, gneiss, etc. Found also as an original constituent of certain igneous rocks, usually those deficient in silica. Massive corundum is found in the United States in various localities along the eastern edge of the Appalachian Mountains from North Carolina south. It has been extensively mined in southwestern North Carolina. It occurs here in large masses lying at the edges of intruded masses of a chrysolite rock (dunite) and is thought to have been a separation from the original magma. Found as an original constituent of a nepheline syenite in the Province of Ontario, Canada. At times the corundum is so abundant as to form more than 10 per cent of the rock mass. Associated minerals are commonly chlorite micas, chrysolite, serpentine, magnetite, spinel, cyanite, diaspore, etc.
Identification and Diagnostics
Infusible and insoluble. Finely pulverized material moistened with cobalt nitrate and intensely ignited assumes a blue color (a test for aluminum). Characterized chiefly by its great hardness, adamantine luster and high specific gravity.
Occurrence, Localities and Origins:
Used as a gem stone. The blue sapphire is a very valuable gem, ranging at times, to around $1000 per a carat. Corundum stones of various other colors are normally valued at lower levels, except the padparacha, a stone of a orange-pink color, which can be as expensive or more so than the blue.
Sapphires are found associated with the rubies of Thailand and Sri Lanka. They occur also at Banskar in Cashmere, India - Cashmire sapphires being highly valuable and sought after. They are also mined at several locations in east Africa, including the Umba river in Tanzania. In the United States small sapphires of fine color are found in various localities in Montana, where they were first found in the river sands east of Helena when washing them for gold. They have since been found embedded in the rock of lamprophyre dikes. The rock is quarried and after exposure to the air for a time it gradually decomposes, setting the sapphires free. Sapphires are also found over an extensive area in central Queensland, Australia.
Emery was formerly used also as an abrasive, but the majority of such uses are replaced either by silicon carbide or synthetic corundum.
Return to the Mineral Collectors Information Page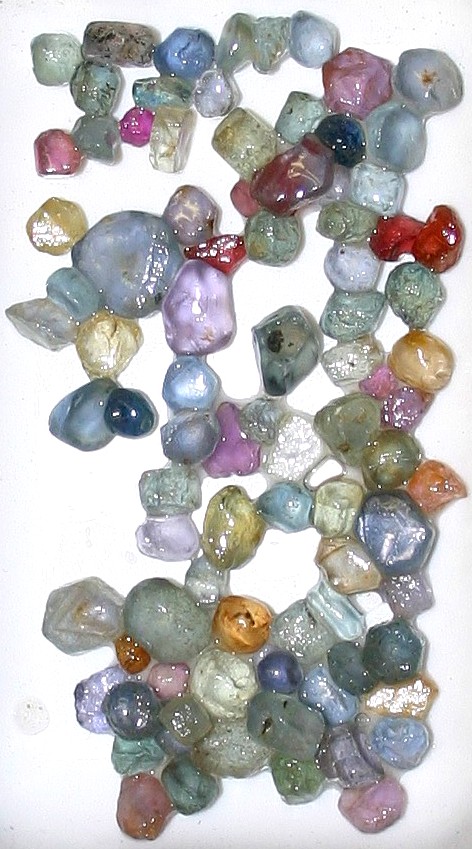 For More information about Sapphire as a gem, see:
SAPPHIRE - A Gem of Every Color but Red