.
Almandite Mineral Facts:
Chemical Formula: Fe3Al2(SiO4)3
Iron-aluminium garnet. Ferric iron replaces aluminium
and magnesium replaces ferrous iron.
Colors: Deep red, brownish red or black.
Hardness: 7
Density: about 4.1 to 4.3
Cleavage: None
Crystallography: Isometric, hexoctahedral
Usually distinctly crystallized; also in rounded grains; massive granular, coarse or fine. When crystalized, commonly forms dodecahedron and trapezohedron, often in combination. Hexoctahedron observed at times.
Luster:.Vitreous glassy luster. It is transparent or translucent.
Optics: (Refractive Index): 1.8100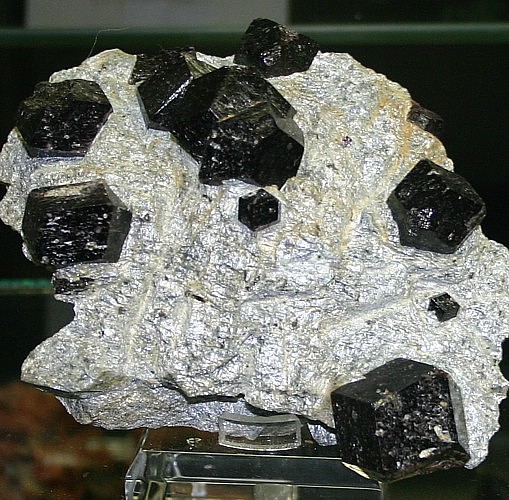 Black Almandite Garnet
Composition, Structure and Associated Minerals:
Almandite is a common garnet is an extremely frequent mineral in metamorphic rocks, mica schists, and gneiss; also in granites, andesites and in some ore veins. The name is derived from the city of Alabanda, now known as Doğanyurt in the Aydin Province, in the Asian part of Turkey, where in ancient times garnets were cut and polished. It is one of the commonest of all garnets. Almandite furnishes nearly all the garnet material which is manufactured into commercial abrasives. Transparent varieties are also used as gems. It is widely distributed in schists and gneisses. The chief sources are the gem gravels of Sri Lanka and the Minas Novas district of Brazil; and the mica-schists
of various parts of India, notably those of the Sarwar district of Kishangarh State, and those of Rajmahal in Jaipur State.
Identification and Diagnostics
It is fusible before the blowpipe to a black magnetic mass. Garnets, when in crystals, are easily distinguished from other similarly crystallizing substances by their characteristic isometric crystals, color and hardness, etc. Massive garnet may resemble vesuvianite, sphene, zircon or tourmaline. It is distinguished from zircon by its easier fusibility and from vesuvianite by its more difficult fusibility; from tourmaline by its higher specific gravity, and from sphene by the reaction from titanium. It frequently requires a chemical analysis to positively distinguish between the different members of the group, or the percentages of each element in an individual specimen.
Occurrence, Localities and Origins:
Its Its best known occurrences in North America are at Yonkers and at various points in the Adirondacks, N. Y., at Avondale, Pa., and on the
Stikine River, in Alaska. The varieties of almandite that are transparent are used as gems. Other varieties too dark or included for gem use are crushed and employed as abrasives. Abrasive garnet has been produced in the mountain regions of New York, New Hampshire and North Carolina. The rock is crushed and the garnet separated by hand picking, screening, or by jigging. The crushed material is used largely in the manufacture of garnet paper. Almandite, of gem quality, is found in northern India, Brazil, Australia, Tanzania and in several localities in the Alps. Most Almandite gems are very dark in color, so that larger stone appear almost black and reflect little light. Fine crystals, although for the most part too opaque for cutting, are found in a mica schist on Garnet Creek close to the Stikine River, Alaska. Garnet is Schist is known from several locations in Alaska.
Return to the Mineral Collectors Information Page