.
Gypsum Mineral Facts:
Chemical Formula: CaSO4.2H2O (Various forms including Alabaster, Satin Spar, Selenite)
Colors: White and colorless when pure.
Impurities may render it shades of gray, red, yellow, blue or black.
Hardness: 1.5 to 2.0
May be scratched with a fingernail.
Density: 2.3

Cleavage: Perfect parallel to the clinopinacoid (010); giving very thin, flexible, non-elastic plates; sectile.
Crystallography: Monoclinic
Luster:. On clinopinacoid faces and cleavage planes, gypsum can be shining and pearly; on other faces, subvitreous. Massive varieties generally glistening, but sometimes dull and earthy. Fibrous forms are silky.
Optics: (Refractive Index): a = 1.521; b = 1.523; y = 1.530 Transparent to opaque.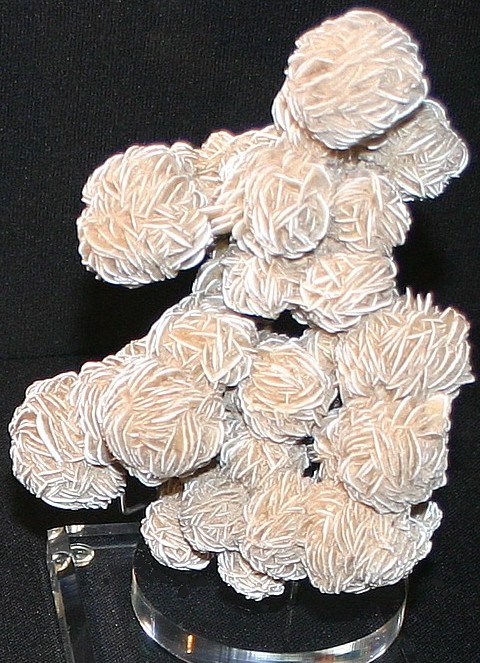 Composition, Structure and Associated Minerals:
Gypsum is a common mineral which is widely distributed in sedimentary rocks, often as thick beds. It frequently occurs interstratified with limestones and shales. Usually to be found as a layer underlying beds of rock salt and has been deposited there as one of the first minerals to crystallize because of the concentration of salt waters. Occurs also as lenticular bodies or scattered crystals in clays and shales. Found at times in volcanic regions, especially where limestones have been acted upon by sulfur vapors. Also, is common as a gangue mineral in metallic veins. Associated with many different minerals, the more common ones being salt, anhydrite, dolomite, calcite, sulfur, pyrite, quartz. Deposits of gypsum of commercial importance are found in many localities in the United States, but the chief producers are located in New York, Oklahoma, Texas, Iowa, Michigan, Ohio, Virginia and Kansas.
Identification and Diagnostics
Gypsum is distinguished from other easily cleavable, colorless minerals by its softness and the reactions for S and H2O. It is also characterized by its perfect pinacoidal cleavage. After intense ignition, residue gives alkaline reaction on moistened test paper. Soluble in hot dilute hydrochloric acid and solution with barium chloride gives white precipitate of barium sulfate.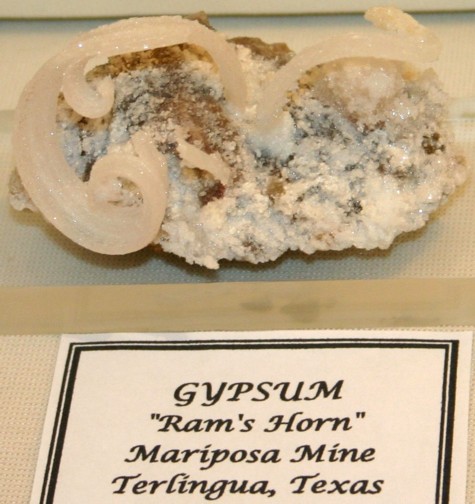 Occurrence, Localities and Origins:
Gypsum forms immense beds interstratified with limestone, clay and salt deposits where it has been precipitated by the evaporation of salt lakes. Its crystals occur around volcanic vents, where they are produced by the action of sulfuric acid on calcareous rocks. They are also found isolated in clay and sand, and in limestone, wherever this rock has been acted upon by the sulfuric acid resulting from the weathering of pyrite. Gypsum also occurs in veins and is found in New Mexico in the form of hills of wind-blown sand.
Crystals are found in the salt beds at Bex, Switzerland; in the sulfur mines at Girgenti, Sicily, and at Montmartre, France. In the United States they occur at Lockport, N. Y., in Trumbull Co., Ohio, and in Wayne Co., Utah, in limestone; and on the St. Mary's River, Maryland, in clay. Extensive beds occur in Iowa, Michigan, New York, Virginia, Tennessee, Oklahoma and smaller deposits in many other states, and windblown sands in Otero Co., New Mexico.
Gypsum is an exremely important material for construction. Crude gypsum is used in the manufacture of plaster, as a retarder in Portland cement, and as a fertilizer under the name of land plaster. The calcined mineral is used as plaster of Paris and in the manufacture of various wall finishing plasters, and certain kinds of cements. Small quantities are used in glass factories, and as a whitewash, a deodorizer, to weight phosphoric fertilizer, as an adulterant in candy and other foods, and as a medium for sculpture. Satin spar and alabaster are cut and polished for various ornamental purposes but are restricted in their uses on account of their softness.
Return to the Mineral Collectors Information Page