.
Red Beryl Mineral Facts:
Chemical Formula: Be2Al2(SiO3)6
Colors: Red Beryl is the Raspberry red color variety of beryl, and is colored by manganese. It is an extremely rare variety of beryl. Its streak is white.
Hardness: 7.5 to 8.0
Hardness varies somewhat depending on formation and impurities.
Density: 2.6 to 2.8
Cleavage: Beryl's cleavage is very imperfect but there is frequently a parting parallel to the base.
Crystallography: Hexagonal
Strong prismatic habit. The usual form is in sharp and, in some cases, very large columnar crystals with a distinct hexagonal habit. Red Beryl crystals from the Thomas Mountains are normally found in short stubby crystals flattened on the "C" axis. Crystals from the Wah Wah range are longer. Forms usually present consist only of prism of first order and base. Crystals of red beryl are always fairly small.
Luster:. Beryl has a glassy luster. It is transparent or translucent. Red Beryl describes the red form of this mineral. Used as a gem or as a collectors stone.
Optics: (Refractive Index): w= 1.5740, e= 1.5690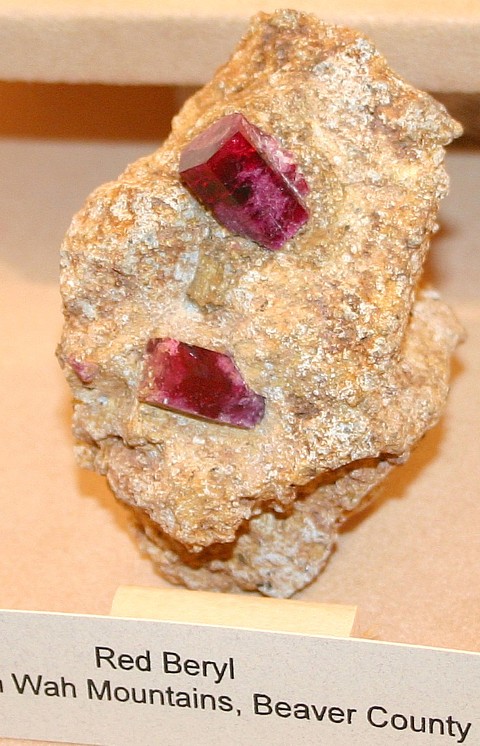 Composition, Structure and Associated Minerals:
Red beryl (sometimes marketed as "red emerald") is a red colored variety of beryl. It was first described in 1904 for as find at Maynard's Claim in the Pismire Knolls of the Thomas Range, Juab County, Utah. The dark red color is attributed to the presence of Mn3+ ions.
The other transparent varieties of beryl are utilized as gems, under the following names:
Emerald, a deep green variety, colored by Chromium or Vanadium.
Aquamarine, a blue-green variety, colored by iron,
Golden beryl, a golden yellow-colored variety,
Morganite, a pink, high cesium variety colored by manganese,
Goshenite or White beryl, a colorless variety.
Identification and Diagnostics
Beryl whitens and fuses with difficulty at 5-5.5 to an enamel. Yields a little water on intense ignition. Insoluble in acids. Recognized usually by its hexagonal crystals, its hardness, color, etc. Beryl is distinguished from apatite, which it much resembles, by its greater hardness.
Occurrence, Localities and Origins:
Red beryl is very rare and has only been reported from a handful of locations including: Wah Wah Mountains, Beaver County, Utah; Paramount Canyon, Black Range, Sierra County, New Mexico; Round Mountain, and Thomas Range, Juab County, Utah. The greatest concentration of gem-grade red beryl comes from the Violet Claim in the Wah Wah Mountains of mid-western Utah, discovered in 1958 by Lamar Hodges. However even at this location only a very small portion of the crystals are gem quality. Red beryl from the Thomas range is translucent and is not gem quality but makes fine specimens. Crystals from New Mexico generally do not exceed 3 mm in size. Prices for top quality natural red beryl from the Wah Wah Mountains can be as high as $10,000 per carat for faceted stones. Good quality mineral specimens are also highly prized.
While other varieties of gem beryl crystals are ordinarily found in pegmatites and certain metamorphic rocks, all known occurances of red beryl are found in topaz-bearing rhyolites (rhyolite is a high silica volcanic rock). Crystal growth occurs under low pressure and high temperature conditions from a pneumatolitic phase along fractures or within near-surface miarolitic cavities in the rhyolite. Associated minerals include bixbyite, quartz, orthoclase, topaz, spessartine, pseudobrookite and hematite - at each of the locations the minerals found in the crystal vugs is slightly different, and not all associated minerals are found at all of the locations.
Return to the Mineral Collectors Information Page