For each of the past two years, I have spent a few days attending the annual AZO outing at Rich Hill, Arizona. It is usually held in mid February around the time of the Presidents Day holiday weekend. Renowned for its large nuggets, the granite mountain of Rich Hill serves as a poster perfect backdrop for this outing to talk about detecting for gold nuggets. Hundreds of folks interested in electronic prospecting for gold attended, and the weather for both my trips has been beautifully sunny and dry. Experience levels ranged the full gamut from folks who were yet to find their first nugget to folks who had many years of successful experience. The format is very informal, and participants were free to choose which lecture sessions they wanted to attend, and the times they wanted to prospect out on the hillsides at their leisure. The lectures were held on the grounds of the GPAA facility at Stanton at the foot of Rich Hill. The GPAA has a nice facility at Stanton, AZ located at the foot of Rich Hill. A flat area adjoining the GPAA facility is the site of the annual AZO Outing. Camp facilities are available to LDMA members. Not only is attendance free, but AZO offers free prize drawings to the participants as well – and some nice detecting accessories were given away.
The outing is free and open to anyone who is interested in learning about prospecting for gold with a metal detector. Free training seminars are provided by some of the most experienced prospectors around. Because the event really fills a need for so many of the new prospectors coming into the field, it has grown quite a bit over the several years the outing has been held. Although many of the discussions at the outing were related to Minelab detectors, the participants sported all manners and makes of detectors. Much of the material presented at the lectures was about the general concepts of detecting for gold and was applicable to nugget oriented metal detectors in general. The training sessions covered a wide variety of topics. Steve Gholson spoke on search coils and how they affect metal detector operations. He covered how coils work, including the magnetic fields they generate. He also covered the different types and coil shapes which are available and how they can be used to their best advantage in different types of field conditions.
"Montana" Bob Dansie of Arizona spoke about Metal Detecting Tips & Techniques. Bob is a well-known and very experienced prospector and he shared some of the techniques that he has developed through years of prospecting in the gold fields of North America and Australia. Bob has found thousands of nuggets over the years and his talk reflected the wealth of his experience.

On both of my trips, I flew in from Nevada and gave a lecture on finding new nugget patches through research. Finding spots with good detectable gold is usually the most difficult task in successful electronic prospecting – no matter how good your detector is, it cannot find gold if it isn't there in the ground to begin with. My talk emphasized bringing together a variety of sources of research information including old mining reports, geologic maps, topographic maps, aerial photos, mine databases and other research material to generate ideas on new places to prospect with your metal detector.

I presented some important examples of how one could miss critical information if both topographic maps and aerial photos are not used. I also went through and did a couple of example research projects and showed a complete process of how good targets for prospecting could be developed, and GPS coordinates identified that would take the prospector right out to that promising spot in the field.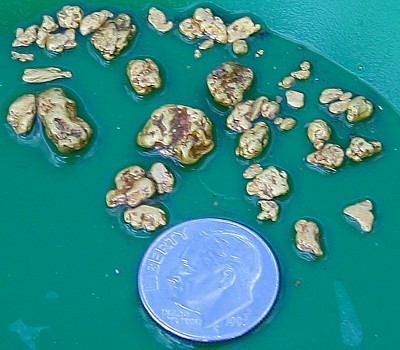 Some hotel accommodations are available in the nearby towns of Wickenburg and Yarnell, but most everyone who attended the outing camped out on the flats just south of Decision Corner. This spot is about 2 miles east of the location of the lectures at Stanton, and is a wide-open area of mostly level BLM land that is available for free camping. The participants camped out in tents, campers, and motor-homes spread widely through out the area. While the spot makes for good camping and is fairly easily accessible, there are no hook-ups, no water or electricity, so one must bring in all needed camping supplies, including food, water and firewood. Participants come to the outing from all over the western US, with a few coming in from even further distances. Nearly all who flew in felt the knowledge, experience and friendships gained during the outing was well worth the cost of the ticket and a rental car.
In the evenings, large campfires are set up in several locations around Decision Corner and there is plenty of gold talk around the campfires at night. What would one expect when a couple hundred prospectors are all gathered in one place? These discussions can be every bit as informative and worthwhile as the daytime lectures – often opinions are freely given with no holds barred. Campfire discussions included comparisons of the various nugget oriented metal detectors currently on the market, and the aftermarket or specialty coils available for use with them. Other hot topics of discussion included who had been finding gold and the possible locations where they were successful.
There is plenty of gold to be seen at the AZO outing - many of the participants were displaying some nice gold that they had detected recently. Certainly plenty enough gold was seen to fire up the imaginations of any red-blooded prospector! A number of the participants found some nice gold right at Rich Hill during the outing itself. A good number of gold quartz vein specimens have been found over the years in the general Decision Corners area and the flats below them, and this year was no different. Most of this area is under claim by the GPAA or Roadrunner prospecting associations, and membership is needed to prospect on those claims. Many attendees spend a good amount of their time during the event hunting for nuggets in the many productive areas around Rich Hill.
Finding gold takes knowledge, skill, hard work, and sometimes a little luck. Knowledge and research allows the prospector to have some good ideas of places to explore and what to look for when he reaches the target area. The AZO Outing at Rich Hill is all about equipping the prospector with the best equipment and the knowledge he needs to successfully find gold with a metal detector.

The previous events have been such a huge success that there is little doubt that there will be a 5th annual AZO Outing at Rich Hill next year. Most likely it will be scheduled for sometime in mid February, generally the same time frame as it was this year. It may even be expanded somewhat. Keep an eye on the ICMJ Miners Calendar for exact dates or contact Chris Gholson at Arizona Outback for more details.