Every once in a while my prospecting and my jewelry making interests intersect to produce a single project. Here is a little pendant I finished doing up a little while ago, and its a project which I thought both gold prospectors and rock hounds might be interested in. The thing to note here is that good, solid gold quartz specimens can be cut up and made into some very nice and expensive jewelry. It is common that prospectors will crush the high grade gold - quartz specimens they find to extract their gold. Crushing these pieces up for their gold content may be a very serious waste of potential cash for some specimens. This particular gold-quartz stone is from a piece I found near Grass Valley, CA. It is mounted with 16 very nice little Columbian emeralds in a pre-made 14K gold mounting. These natural Columbian emeralds are of a fine quality and clarity that you just donít normally see in commercial emeralds Ė the only issue is just that these stones are small. The setting of all those little stones was a real pain in the behind, but I think the final result was worth it. Actually selecting that many matching stones from a large lot of cut emerald to find ones all the same size and color was also a major pain in the behind as well.
This type of jewelry with natural gold in quartz was very popular in Victorian times, and many mines produced this type of gem material. Although gold quartz jewelry is a bit uncommon these days, it is still made today and featured in specialty custom jewelry shops. It is used in both men's and women's jewelry pieces. Only a few mines now produce a significant amount of this beautiful material. One is the 16 to 1 mine located at Alleghany in Sierra County, which is not too far from Reno, but the prices for material from that mine are very high.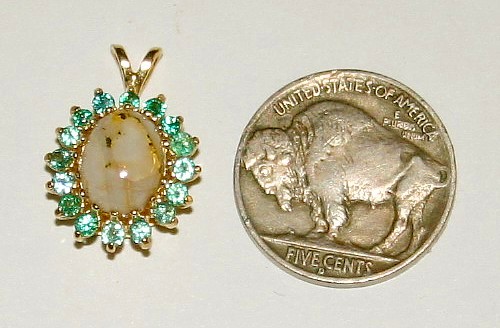 The mounting cost me around $40, the stones were a bit more expensive but already I had them on hand, and with the gold quartz, this is seriously a $400.00+ piece of jewelry. Yep, it takes specialized equipment to turn a stone into a nice cabochon, but I have the equipment needed, so it worked out OK. Check out the original sixteen to one mine website if you want to see how expensive gold quartz cabochons really are.
Not all gold quartz specimens can be cut to produce nice attractive jewelry, but ones that are suitable for jewelry should not be destroyed. The best gold quartz has a nice spattering of gold on a pure white quartz background, although some other colors of quartz can be just as good as long as they are easy on the eye. The piece must also be fully solid, as cracks and flaws in the piece will cause the gem to fall apart during cutting.