While lode gold quartz was discovered in the White Hills as far back as the 1870s, it wasn't until the time of the great depression in the 1930s the placer gold was discovered and mined. By August of 1932, one hundred men were testing the field with dry washers most of them departing when the winter rainy season put a stop to dry washing, but about 40 were back prospecting again in June of 1933. The Gold Basin placers are located in section 28 and 29 North are 17 and 18 West about 9 miles South of the Colorado River. There are also placers associated with the Lost Basin Range drainages on both its east and west flanks. This includes the King Tut area. All of these locations are accessible by dirt roads which branch northward from Dolan Springs.

Because this area is easy to get to and not too very far from the Las Vegas area, there are a lot of private claims as well as claims belonging to prospecting clubs. At the time I'm writing this there is still some land that is free to prospect on: unclaimed and open to location, but as the price of gold goes up there seems to be less and less of it each year. There is also a significant amount of private property in the area which is also not open to prospecting. For those who are not familiar with the region, joining a prospecting club seems to be the best opportunity for having a location to prospect in this area.
The placers in the Gold Basin region have produced both coarse and fine gold. While nuggets in the four to five ounce range are about the maximum that are found, these are rare. Still, there are a good number of nuggets over an ounce that have been found in this area. The gold is derived from many small gold Quartz veins which are found in precambrian metamorphic rocks. These veins are associated with and similar to the lode deposits which were discovered in the area in 1800s. The placers are associated with outcrops of these precambrian rocks, and they are favorable indicator for the presence of gold. Hard packed, caliche cemented gravels are common throughout the area, and in many locations these hard gravels form a false bedrock upon which later gravels are deposited. The typical depths of the gold bearing gravels range from one to 5 feet thick, and normally rest upon caliche cemented material.

While all of the early work which was done in this area had been accomplished by dry washing, in recent decades metal detecting has become extremely popular in this area. This is been especially true with the advent of pulse induction metal detectors which are able to penetrate into the mineralized soils at this location.

Although a lot of detecting goes on here, dry washing continues to be popular, and a number of small-scale miners still try their hand dry washing the sands and gravels in the white elephant wash region.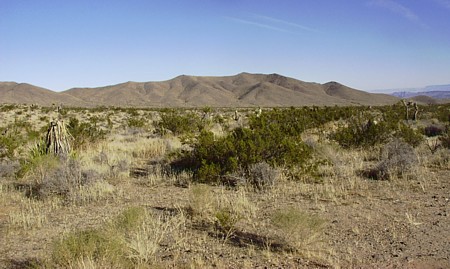 Prospectors armed with metal detectors working in this area soon found that in addition to the gold, there was an abundance of extremely hot rocks located in the Gold Basin area. These rocks sounded off loudly to the metal detectors used in hunting gold. For many years, these rocks were tossed out as worthless. Eventually they were recognized as meteorites, as the iron metal in the meteorites was setting off the metal detectors. Since that time, Gold Basin has become well renowned for producing an abundance of meteorite specimens, often termed "space rocks" by those in the know.

Gold nuggets are widespread, and associated with the local outcrops of metamorphic rock, but there are many private lands and claims in the area. It is important for any prospector who is coming to this location to do his homework on claim status and ownership for the lands which he will be investigating. Detecting and prospecting at the Lake Mead Recreation area is a violation of federal law, and likely to bring serious citation or other enforcement action. It is important to stay off the Recreation area when prospecting.

In recent years, there's also been a large amount of real estate development in the area. As the winters are generally mild, it has become a very popular location to retire. Lake Mead, the Colorado River and all the recreation they offer are only a short distance away, and even Las Vegas is not that far. The Gold Basin area has virtually become a suburb to Dolan Springs, and each year brings new development to the area. There is still a lot of desert to explore, but there is no stopping the continuing trend of development. The nugget patch you find this year may well be just a stones throw from someone's backyard next year.
Gold Basin is easily accessed both from the north and the south, from Arizona Highway 93. take a turn off for Dolan Springs, and head toward Meadview. Various roads branch off to access the Gold Basin (white elephant wash) or Lost Basin areas. these roads are generally well-maintained, but are dirt. the smaller roads which take off into the mining areas are not maintained and may not be in as good a condition.

The nearest food and other supplies for prospectors working in this area are obtained at Dolan Springs. This community is not large and does not offer a lot of services, but one can obtain the basics of food and gasoline. If a larger community with more specialized services and stores is needed, it is best to continue on in a southwesterly direction on Highway 93 to Kingman.