Feb. 20th. Our first day's labor has given to each of us 45 cents. We have worked in a loose, talcose slate, on the edges of the stream. The gold is here coarser than in the rivers.
Feb. 21st. Have to-day made $1 each. Finding a place which seemed favorable, lying upon the bed of the stream, we began to dig down and throw off the top soil. We were soon interrupted by some persons, who said we could not work there, as they claimed it. We inquired why they had not left their pick or spade there, according to the custom. They replied that all the miners there were bound to stand by each other in maintaining their claims, which were known to each other. We find that most of the ground is held in this way, without being marked off or designated. The present alcalde, it is said, holds thirty of these claims.
Feb. 22nd. Two of the company went over to the Stanislaus to prospect. In the place of gold, they brought back with them a bouquet of wild flowers, which would have graced the centre-table of any parlor. Our day's labor gave $1.12 to each. We have been ejected from two claims to-day, after working some time upon them. It seems that comparatively a few persons have undertaken to monopolize most of the gold soil in the gulch. They have driven off a large number of French miners from what is called " French Bar," and have likewise taken possession of that.
Feb. 23rd. We have to-day divided our forces Two of us commenced sinking a hole upon French Bar, while the others went to a small stream running through an extent of table-land on the top of the mountain. .Those on the bar below, of course, labored without present remuneration, as a deep excavation must be made, requiring our united efforts for a week or ten days. Those on the hill have made enough to divide $5.10 to each of us.
Feb. 25th. Those from the mountain have brought home $8. 60 to each. We have been delayed in our work in the valley by the caving in of the dirt upon us, owing to the rain. At last we were compelled to abandon it for the present. During the last night we had a violent snow-storm, which broke down our tent over our heads.
Feb. 26th. We commenced working upon another claim, but were again driven from it. Appealed to the alcalde, who decided against us, but at the same time pointed to another place, farther from the stream, where he advised us to work. We had spent two hours in digging here, when two miners laid claim to the ground, and soon brought the alcalde, who said it was a misunderstanding:, and that he had intended to give us another place, upon which he then stood. There was then no doubt, and we worked all the afternoon upon that place. From the mountain we received $8.87 each. To our joy, we have found a plant which makes an excellent salad. It grows abundantly about us. We have lived so long without vegetables that this is a luxury.
Feb. 27th. It has been a cold day, with occasional dashes of snow. On reaching our claim in the valley, we found a miner in possession. On appealing to the alcalde, who had so decidedly given us the place only yesterday, to our surprise he again decided against us. Those upon the mountain made $6.62 to each of us. We all abandoned the valley, only retaining our claim upon the French Bar, where we left our crow-bar as our legal representative.
Feb. 28th. We had barely reached our place of labor this morning, upon the mountain, when it came on to rain so violently as to drive us home. We have spent the day in our tent, reading, writing, cooking, and sleeping.
March 4th, Monday evening. We have been kept from work for several days by the rain. Improved the time in prospecting upon the Stanislaus. Heard of a ravine near the Green Springs where much gold has been found. In the fall, when I was at Mr. Islip's, I met an eccentric man named Texas Jack. He told me that, early in the spring previous, while passing to the Stanislaus mines by a nearer path across the mountains, he had prospected in a ravine, and from one pan full of dirt had taken nearly a pound of gold. I took the direction to the place, but, having learned not to be led by such wonderful stories, I never visited the spot. Some miners, a few weeks since, happened upon this very place, and, before their secret was discovered, had made $8000. Several others had done well there.
March 5th. We have all worked together upon the mountain to-day. During the forenoon the vein ran out, and was nowhere to be found again. We made many trials, but without success. Made $2.06 each.
March 6th. We worked in a ravine where a few rich deposits have been found. One of our number, while working with his knife, in a few moments took out three gold nuggets, which together were worth $21.70; but, during the whole of the day, the others of the company did not make 25 cents. The fields and the mountain sides begin to be clothed with the most beautiful and variegated flowers. I had heard and read much of the flowers of California, but they far surpass my highest anticipations. They spring up at the close of the rainy season, thrive amid frost and snow, live a short life of exceeding beauty, and soon die, cut down by the heat of the dry season.
March 7th. We were driven in by the rain this afternoon, after having made $1.25 each.
March 16th, Saturday. Since my last date, more than a week since, we have dug to the bottom of our claim, though it caved in several times upon us. We were so deep in the ground that we could not throw out the dirt, and were compelled to throw it up upon a platform, and then from the hole. After digging down eighteen feet, we were troubled with water, which came in upon us so fast as to require one to be kept bailing much of the time. At last we reached the bottom, washed the gold-dirt carefully, and, as the result of a week's labor for four of us, we shared the sum of $1.87. We have had severe and continued rains. Every thing is completely drenched. Our clothes, our blankets, our provisions, are all wet and moldy. Our fire is extinguished. The water stands in puddles under the pine boughs beneath our blankets. We were compelled to cut small drains from the middle of the tent to the large drain which surrounds it, and throw away the wet boughs, which Jack calls our feathers. Then we kindled a large fire in the tent to dry it. The playful stream, which lately ran by us so harmless, now roars and rages, and is yet rising. The miners are pitching their tents farther up the hill.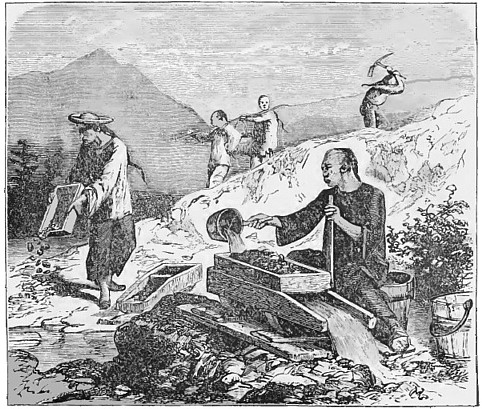 Early Day Chinese Gold Miners