.
Scheelite Mineral Facts:
Chemical Formula: CaWO4 80.6% Tungsten Oxide
The mineral usually contains a little molybdenum in place of some of the tungsten. It nearly always contains also a little iron.
Colors: White, yellow, orange, green, brown. Streak is white.
Hardness: 4.5 to 5
Density: 6.05
Unusually high for a mineral with nonmetallic luster.
Cleavage: Perfect parallel to the pyramid. Fracture uneven, brittle.
Crystallography: Tetragonal; tri-pyramidal
Crystals usually simple pyramids of first order. Closely resemble isometric octahedrons in angles
Luster:. Vitreous to adamantine; transparent to opaque.
Optics: (Refractive Index): e= 1.9345,
w= 1.9185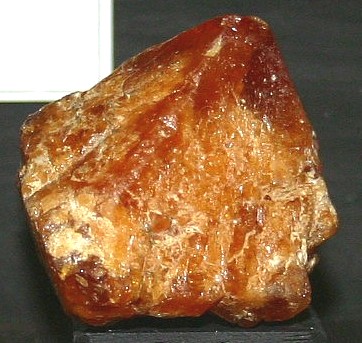 Composition, Structure and Associated Minerals:
Scheelite is found in granite pegmatites, contact metamorphic deposits, and high temperature veins. In these veins, it occurs usually with quartz in crystalline rocks associated with cassiterite, topaz, fluorite, apatite, molybdenite, wolframite, and many other metallic compounds. Found at times with gold. As a contact metamorphic product in altered limestone intruded by granite it is associated with typical scarn minerals like garnet and epidote. It is probably in all cases deposited from hot solutions. Sometimes found as crystals, but usually occurs reniform, with a columnar structure; also massive and granular.
Identification and Diagnostics
Scheelite is distinguished from limestone, which its massive forms closely resemble, by its higher specific gravity and the absence of effervescence with HCl. From quartz it is distinguished by its softness and from barite by greater hardness and higher specific gravity. Nearly all scheelite fluoresces under short wave ultra violet light. This can make for a fast method of finding scheelite specimens.
Occurrence, Localities and Origins:
Occurs in connection with the tin deposits of Bohemia, Saxony and Cornwall; in quantity in New South Wales and Queensland. Found in the United States at Trumbull, Connecticut; at the Atolia District near Randsburg, San Bernardino County, California; near Mill City Pershing County, Nevada; near Dragoon, Cohise County, Arizona; in Lake County, Colorado; near Gage, New Mexico, where it occurs with pyrite and galena in a vein cutting limestone, and in the placer gravels at Nome, Alaska. High perfection orange scheelite crystals suitable for mineral collectors are being mined in China.
Production. Scheelite has been mined in quantity in Idaho, Alaska, California, Nevada, Arizona, and New Mexico, as a source of tungsten, but most of this element has heretofore been produced from other compounds, mainly wolframite. For some years it was produced in large quantity near Bishop, Inyo Co., California.
Scheelite is a subordinate ore of tungsten, with wolframite furnishing the greater amount on a worldwide basis. In the US, Scheelite has been the more important source of the metal. Tungsten is used principally in the manufacture of tool steel, various steel alloys and electric furnaces. It is also employed as the filaments in electric-light bulbs, in the manufacture of sodium tungstate which is used for fireproofing cloth, as a mordant in dyeing, and for a number of other minor purposes.
Return to the Mineral Collectors Information Page