.
Acanthite Mineral Facts:
Chemical Formula: Ag2S (Previously known as Argentite) 87.1% Silver by weight
Colors: Mineral and streak are blackish to lead-gray. Streak sometimes has metallic shine.
Hardness: 2.0 to 2.5
Hardness varies somewhat depending on formation and impurities.
Density: 7.3
The density is high because of the large silver content.
Cleavage: Imperfect, but it is easily sectile, and can be cut with a knife like lead.
Crystallography: Monoclinic
Luster:. Metallic luster. Easily sectile, and can be cut with a knife like lead.
Optics: (Refractive Index): Opaque

Composition, Structure and Associated Minerals:
Acanthite, though not very widespread in its occurrence, is an important silver ore. It is found in masses, as coatings, and in crystals or arborescent groups of crystals. Acanthite is usually, however, impure through the admixture of small quantities of Fe, Pb, Cu, etc. It is most commonly found as massive, platy, earthy forms or as a coating on other rocks. Well formed crystals are fairly rare. The crystals are often distorted and grouped into parallel growths of different shapes. Twinning is common, with P(111) the twinning plane. The twins are usually penetration twins. The habit of most crystals appears cubical because of twinning, but are actually monoclinic.
Identification and Diagnostics
Easily fusible at 1.5 with intumescence. When fused alone on charcoal in an open flame, it gives off odor of sulphur dioxide and yields a globule of pure silver. Distinguished by these tests and by its color, sectility and high specific gravity. It is soluble in nitric acid.
Occurrence, Localities and Origins:
A fairly common ore of silver. Usually found in silver veins as small masses, often earthy or as a coating. Associated with native silver, the ruby silvers, stephanite and other silver minerals as well as other sulfides such as galena. The mineral is found in the secondary enrichment zones of veins associated with silver and other sulfides in many silver-mining districts. In Nevada it is an important ore at the Comstock lode, Tonopah and in the Cortez district. It is found also near Port Arthur on the north shore of Lake Superior, in Ontario, and associated with native silver in the copper mines of Michigan. The rich silver ores of Mexico, Chile, Bolivia and Peru are composed largely of this mineral. Important European localities for its occurrence are Freiberg in Saxony, Annaberg in Austria, Joachimsthal in Bohemia, Schemnitz and Kremnitz in Hungary and Kongsberg in Norway. Much of the silver produced in the US country was obtained from acanthite, though by no means so great a quantity as is obtained from other sources. Still, it is an important ore of silver.
Return to the Mineral Collectors Information Page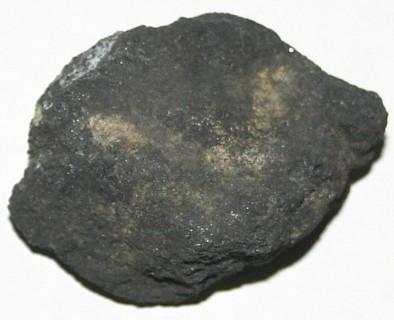 Acanthite, Earthy Form