.
Silver Mineral Facts:
Chemical Formula: Ag - Silver
Colors: Silver White
It is often tarnished to brown or gray-black which is due to the action of the atmosphere or of solutions. The tarnish is commonly either the oxide or the sulfide of silver.
Hardness: 2.5 to 3
Hardness varies somewhat depending on formation and impurities.
Density: 10.1 to 11.1
The density is high because of the large silver content.
Cleavage: None
Crystallography: Isometric
Crystals commonly in irregular masses, plates, scales, etc.; at times as coarse or fine wires; often distorted and in branching, arborescent or reticulated groups.
Luster:. Bright metallic luster when untarnished.
Optics: (Refractive Index): Opaque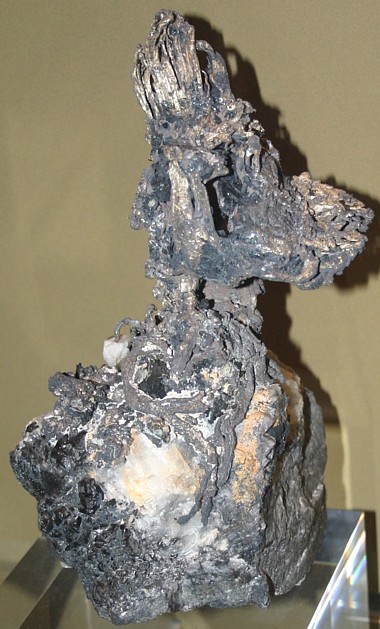 Above: Native Silver, Norway

Composition, Structure and Associated Minerals:
Native silver occurs usually as small irregular flakes and masses disseminated through various vein minerals, often invisible. Found associated with native copper, galena, acanthite (argentite), chalcocite, the ruby silvers, tetrahedrite, calcite, barite, etc. Native silver is frequently containing small amounts of alloyed copper and gold, more rarely traces of platinum, antimony, bismuth, mercury. While native silver is not an uncommon mineral, the larger part of the world's output of the metal is obtained from its various sulfides, including compounds with antimony, arsenic, etc. Most of the native silver occurring in nature is probably secondary in its origin, having been derived by reduction from some of its compounds. It is an excellent conductor of heat and electricity and melts at 960 C.
Identification and Diagnostics
Easily fusible at 2 to bright silver globule. Silver is both malleable and ductile. It is readily soluble in nitric acid forming a solution from which a white curdy precipitate of silver chloride is thrown down on the addition of any chloride. This precipitate is easily distinguished from the corresponding lead chloride by its insolubility in hot water.
Occurrence, Localities and Origins:
Native silver is found in veins with calcite, quartz, and other gangues traversing crystalline rocks, like granite and various lavas, and also in veins cutting conglomerates and other rocks formed from pebbles and sands. It is also disseminated in small particles through these rocks. It occurs invisibly disseminated in small quantities through many minerals, particularly sulfides, and visibly intermingled with native copper.
Native silver has been found in the United States with native copper in the copper mines of Lake Superior where fine crystals have been found in the calcite veins cutting the copper-bearing rocks, and masses of small size in the native copper so abundant in the district. It is found in crystal groups at the Elkhorn Mine, Montana; in large masses in the silver mines at Aspen, Colorado. Is found, at present, in large quantities as platy masses, associated with various cobalt and nickel minerals, at Cobalt, Ontario, Canada. An important silver ore in the mines of Chihuahua, Guanajuato, Durango, Sinaloa and Sonora, Mexico. Occurs commonly in the mines of Peru. Was found in large masses, one of which weighed 500 pounds, in the mines at Kongsberg, Norway.
The localities in which silver is found are too numerous to mention. It is one of the ores of the silver mines of Saxony and Bohemia. Silver is usually found in irregular masses, in flat scales, in fibrous clusters, and in crystal groups with arborescent or acicular forms. Sometimes the crystals are well developed, more frequently they exhibit only a few distinct faces, but in most cases they are so distorted that it is difficult to make out their planes. Pure silver is unknown. The mineral as it is usually obtained contains traces of gold, copper, and often some of the rarer metals, depending upon its associations.
Return to the Mineral Collectors Information Page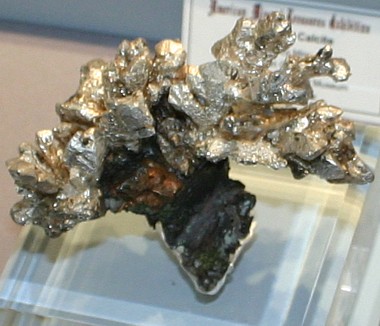 Above: Silver Specimen, Michigan