.
Diopside Mineral Facts:
Chemical Formula: MgCaSi2O6
Diopside is a mixture of the magnesium and calcium silicates in which the two molecules are in the ratio 1:1
Colors: white to light green.
Color deepens with increase in the amount of iron present. The streak is white.
Hardness: 5.5 to 6.5
Density: 3.25
Cleavage: Prismatic cleavage sometimes good, often interrupted. Sometimes basal parting observed.
Crystallography: Orthorhombic
Its crystals are usually characterized by the presence of the basal
plane.
Luster:. Vitreous luster. The lighter varieties tend to be more transparent or translucent, while the darker ones are opaque.
Optics: (Refractive Index) a = 1.6685, b=1.6755, y=1.6980.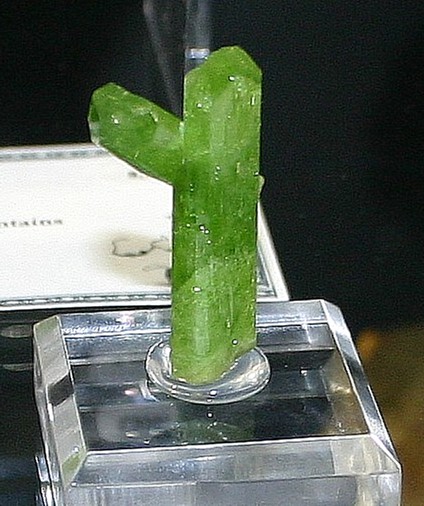 Composition, Structure and Associated Minerals:
Diopside is a non-aluminous member of the pyroxene family of minerals, occurring in white or green prismatic crystals and granular masses. The pyroxenes are common and important rock forming minerals, being found chiefly in the dark colored igneous
rocks, especially those whose magmas were rich in calcium and
magnesium. They are seldom to be found in rocks that contain
much quartz.
Diopside is found in ultramafic igneous rocks such as kimberlite and peridotite. Diopside-rich augite is common in mafic rocks, such as olivine basalt and andesite. Diopside is sometimes found in syenites and similar rocks. Diopside is also found in a variety of metamorphic rocks, such as in contact metamorphosed skarns developed from high silica dolomites and in impure recrystallized dolomite rich limestones.
The variety known as chrome diopside, possesses a bright emerald green color because it contains from one to several per cent Cr2O3. Chrome diopside is a common constituent of peridotite xenoliths, and dispersed grains are found near kimberlite pipes. This makes chrome diopside an important indicator in prospecting for diamond deposits. Occurrences are reported in Canada, South Africa, Russia, Brazil (not coincidently all of these countries are important diamond producers) as well as a wide variety of other locations. Chrome diopside also serves as a gemstone.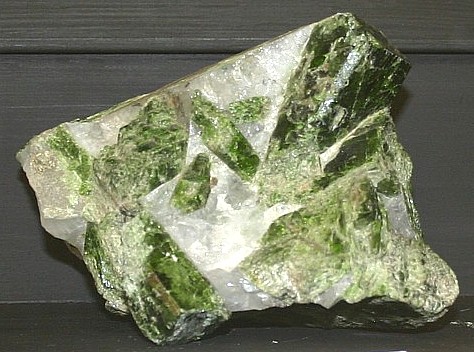 Chrome rich, non-gem quality Diopside
Identification and Diagnostics
Before the blowpipe diopside is fusible, it's fusibility increasing with the quantity of iron present. The fusing temperature of the pure diopside is 1381 F. Diopside is not attacked by acids to any appreciable degree. Diopside is distinguished from other minerals (not pyroxenes) are by its crystallization and cleavage. Chemical analysis is necessary to distinguish the various pyroxene members.
Occurrence, Localities and Origins:
In limestones, diopside is often associated with tremolite, scapolite, vesuvianite, garnet, sphene, phlogopite, etc. In igneous rocks it is found with orthoclase, the plagioclase feldspars, nephelite, chrysolite, leucite, amphibole, magnetite, etc. Some of the notable localities, particularly for fine crystals, are the following: Ala, Piedmont; Traversella; Nordmark, Sweden; in various localities in Orange County, New York; DeKalb, St Lawrence County, New York.
Clear green and chrome colored diopside is occasionally used as a gem material. A black form of diopside mined in India also yields a four ray star cabochon. The black star diopside is an inexpensive genuine gemstone and is sometimes seen in jewelry stores. It is an inexpensive alternative to the six rayed black star sapphire. The other highly valued gem form is chrome diopside, a beautiful emerald green transparent stone that is faceted into bright and attractive gems. The finest gem quality Russian chrome diopside comes from mines are found near kimberlite diamond mine shafts in the mountains of Siberia. Some of the DeKalb, New York diopside crystals, while not chrome bearing, are used to cut gems.
Return to the Mineral Collectors Information Page