.
Alunite Mineral Facts:
Chemical Formula: KAl3(SO4)2(OH)6
Double sulfate of aluminum and potassium. It has also been called alumstone, on account of its use in the manufacture of alum.
Colors: White, pink, gray or red.
Its streak is white in color.
Hardness: 4
Density: 2.7
Cleavage: Perfect basal cleavage.
Crystallography: Hexagonal - Trigonal
The natural crystals are nearly always simple rhombohedra. The habit of the crystals is cubical. Usually found in a massive form with fibrous, granular or porcelain-like structure having a microcrystalline texture.
Luster:. Vitreous to pearly luster. It is transparent to translucent to opaque.
Optics: (Refractive Index): = e= 1.592, w = 1.572
The refractive index is low.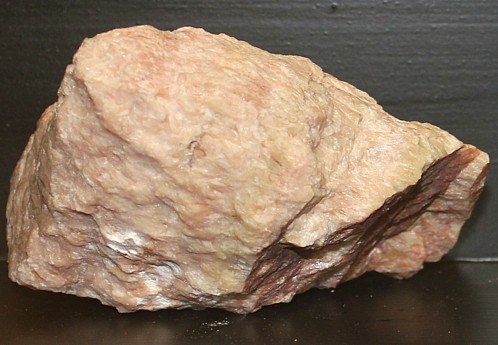 Pale pink Alunite
Occurrence, Localities and Origins:
The principal known occurrences of alunite are at Tolfa, Italy; at Bulla Delah, New South Wales Australia; on Milo, Grecian
Archipelago, and at Mt. Dore, France. In the United States it is found with quartz and kaolin in the Rosita Hills, and the Rico Mts., Colo.; in the ore veins at Silverton and Cripple Creek, Colo.; as a soft white kaolin-like material in the ore veins at Goldfield, Nev.; as a crystalline constituent in the rocks at Goldfield, Nev., and Tres Cerritos, CaL, and in the form of a great vein of comparatively pure material at Marysville, Utah.
At Bulahdelah in N.S.W., about 35 miles from Port Stephen, a narrow range of hills that reaches an altitude of 900 feet consist almost entirely of alunite over a length of about a mile. The rocks of the Bulahdelah area are rhyolites, interbedded with Permo-Carboniferous strata, the whole being folded and invaded by dolerite dykes of Tertiary age. It is supposed that sulfurous vapors were emitted during the intrusion of the dolerites, and that these vapors acted on the rhyolites, decomposing the felspathic ingredients and forming alunite. In its purest form the Bulahdelah alunite is microcrystalline in texture, pink in color, and contains about 9 percent potash. It has been worked for many years as a source of alum, to obtain which the alunite is first heated at the required temperature and then leached with water. If heated more intensely it is converted into a mixture of alumina and potassium sulfate, and in this condition, as already stated, it is useful as a potash fertilizer.
At Tolfa, near Rome, alunite occurs as veins in a mass of trachyte that overlies Tertiary sediments. The trachyte is very pyritic. There
are two views as to the origin of alunite in the Tolfa trachytes. According to one of these views the alunite has been formed by the action of
solfataric vapors on the trachyte. The other view is that the alunite has been formed by the decomposition of the felspars of the trachyte
due to the action of the acid solutions arising from the decomposition of the pyrite by descending waters.
Alunite is often found disseminated in the rocks or in well-defined veins. Notable occurrences in the western USA are at Goldfield, Nevada; Marysvale, Utah; and the Rosita Hills, Colorado. The alunite near Marysvale in Utah occurs in veins traversing andesites that are probably of Tertiary age. The main vein is in one place 20 feet thick, and the outcrop has been proved to extend over a distance of 3500 feet. At Rosita Hills in Colorado, alunite occurs associated with quartz in a granite-like rock that contains not more than about 2.5 percent potash.
Deposits of alunite occurring at Benahadux in Almeria, Spain, have been described under the name of "calafatite." There is, however, no
justification for regarding the Benahadux material as a separate species. Its chemical composition is identical with that of ordinary alunite. It
occurs in compact, chalk-like masses, the texture of which is the same as that of ordinary alunite. It occurs in the form of parallel beds 5 or
6 meters thick beneath Triassic limestone, and is easily and cheaply quarried. Deposits of chalk-like alunite occur at other localities,
notably at Carrickalinga Head in South Australia.
Alunite is sometimes associated with valuable gold deposits. In volcanic regions it is not uncommon to find considerable areas of bleached and altered lavas which contain more or less alunite (K20.3A12O3.4S03.6H2O), an earthy or compact, rarely coarsely crystalline mineral of inconspicuous appearance. Occasionally it is associated with diaspore or gibbsite. In most cases this basic sulfate, which is insoluble in water, is probably formed by the action of waters containing free sulfuric acid on aluminous rocks. It is also found in places in the oxidized zones of veins containing pyrite. In such altered zones in volcanic rocks alunogen, jarosite, halotrichite, and other sulfates of iron and aluminum are often encountered as products of solution and oxidation. Pyrite sometimes appears as a primary constituent, its iron being probably derived from the ferromagnesian silicates of the rock. Although the alunite itself is used, in large deposits, for the production of alum and similar salts, sometimes gold and other rare metals are associated with areas of alunitization. This type of deposit is known as the epithermal quartz-alunite gold deposit. Gold, pyrite, and enargite are found in vuggy veins and breccias in zones of high-alumina alteration related to volcanic rocks such as dacite, quartz latite, rhyodacite and rhyolite. These deposits of gold ore are hosted by felsic volcanic rocks, generally intrusions or lava domes, that have low acid buffering capacity. Mineralized rock from the deepest part of these systems tended to have elevated abundances of arsenic and copper but not as elevated as those characteristic of Goldfield, Nevada or Summitville, Colorado. Another example of this type of deposit is Paradise Peak in Nevada. Typical minerals include: pyrite, enargite, covellite, chalcocite, chalcopyrite, native sulfur, marcasite, native gold, and barite. Less common are sphalerite, galena, and siderite.
Uses:
In Australia alunite is calcined and then heated with dilute sulfuric acid. The mixture is then allowed to settle and the clear solution is drawn off and cooled. Alum crystallizes. The mother liquor which contains aluminum sulphate, after further treatment with the calcined mineral, is evaporated and the aluminum salt separated by crystallization. It has been utilized as a source of both potassium and aluminum.
Return to the Mineral Collectors Information Page