The famous old mining county of Calaveras, California, has furnished some of the most noteworthy chunks of gold found in that State, but the largest have been mixed generally with quartz. A fourteen-year-old boy named Perkins was working at a plaything of a water wheel in the bed of an old worked over mountain stream in the summer of 1858, and stumbled upon a nugget of gold and quartz as large as a cocoanut. The chunk sold for about $1,800. The strange thing about it is that the gold had probably lain where it was found among the remnants of the washings for several years, and hundreds of miners had passed that spot searching for the yellow metal.
George H. Norman and Frank Aman found near Gibsonville, in 1867, a nugget that weighed over 100 ounces and was worth $1,700. In 1851, at French Ravine, a lump of gold and quartz together was discovered from which $8,000 in gold was taken. In 1855 a nugget of gold and quartz found in the same ravine returned $10,000. At Minnesota, in the same county, a nugget that weighed 266 ounces was found. This was valued at $5,000. At French Ravine, in 1850, a mass of gold and quartz was picked up that weighed 263 ounces and was worth $4,893.
In Placer County, in 1859, Edward Gilbert, in his drift mine near Butcher Ranch, twelve miles from Auburn, found a nugget of gold and quartz that weighed twenty pounds. Eight pounds of this he sold for $1,536, and the remaining twelve pounds for $1,728, making $3,264 for the nugget. The same man, many years later, discovered in the same mine another valuable nugget. It was 10 inches long, 3 to 7 inches wide, and over an inch thick. The gold was embedded in a mass of crystallized quartz, with clear cut corners, the sides of which shone with great brilliancy. When thoroughly cleaned it weighed 147 ounces, and it was sent to the San Francisco Mint, where it brought $2,852. In 1864, near Michigan Bluff, a nugget of pure gold weighing 226 ounces and valued at $4,204 was found. In July, 1876, J. B. Colgrove, of Dutch Flat, found a white quartz boulder in the Polar Star Mine which contained $5,700 worth of gold.
Several small fortunes have come to men who picked up gold nuggets in Shasta County, California. One of the most important was found in May, 1870. Oliver Longchamp, Fred Rochon and another Frenchman drove into the old town of Shasta in search of a spot to mine. They happened to have business with A. Coleman, a dealer in hardware and notions. The three asked him where was a good place to mine. He carelessly pointed to a northerly direction and said, "Go over to Spring Creek." They took his advice, and located a claim on the creek some eight miles north of Redding. A few days afterward one of the Frenchmen picked up a nugget valued at $6,200. Ten years later Dent Young found a $520 nugget on Flat Creek, near where the Frenchmen found theirs.
The biggest nugget found in California in the last thirty years was picked up in Sierra County. It was melted less than twelve years ago by a New York goldsmith, after it had been used far and wide for exhibition purposes.- In August, 1869, W. A. Farish, A. Wood, J. Winstead, F. N. L. Clevering and Harry Warner were partners in the Monumental Claim, near Sierra Buttes, in Sierra County. In the last week of that month they discovered a gold nugget which weighed 1,593 ounces, troy. It was sold to R. B. Woodward, of San Francisco, who paid for it $13,500 for exhibition purposes. When it was melted about $9,800 was realized. Although Plumas County, away up toward the Oregon line and near the Modoc lava bed, is one of the richest counties in California in minerals and has made a dozen men millionaires of several degrees, it has yielded few very large nuggets. The largest was found by a Chinaman near the mouth of Nelson Creek. It was worth $2,800. A miner in Elizabethtown, Archie Little, discovered a $2,600 nugget, and Hays and Steadman found one above Mohawk Valley, near the county line, that weighed 420 ounces and was worth $6,700.
Eldorado County, where gold was first found in California, yielded the first big nugget found in that State. In 1850 a 121 ounce chunk of gold was dug out with a common spade from the bank of the American River, near Lawson's bar. It brought $19,400. Another was found near Kelsey, in the same county, and it sold for $4,700 in 1867. "Pilot Hill," a boulder of quartz gold, yielded $8,000. This, with several small nuggets, was taken from the Boulder Gravel Claim, near Pilot Hill Post office. Several large and valuable gold nuggets were discovered in Tuolumne County. In 1853 a mass of gold weighing 360 ounces was found at Columbus. This was valued at $5,625. At Gold Hill, in the same county, a man named Virgin found one weighing 380 ounces and valued at $6,500. A Frenchman in Spring Gulch, near Columbia, in the same county, found one of almost pure gold which was worth $5,000. The discovery made the miner insane on the following day, and he was sent to the Stanton Asylum. The nugget was sold and the money for it sent to his family in France. Near the Knapp Ranch, half a mile east of Columbia, Daniel Strain discovered a large gold quartz nugget which weighed 50 pounds. After the quartz was crushed and the gold melted the profit was $8,500. On Sullivan's Creek, in the same county, in 1854, a 28-pound nugget was picked up by one of the pioneers ; it sold for $7,168.
What was known as the "Sailor Diggings," near Downieville, were wonderfully rich in nuggets. The claims were owned and worked by a party of English sailors in 1851. These claims produced one nugget weighing thirty-one pounds, and a number of others weighing from five to fifteen pounds. This party returned with their wealth to England, and, exhibiting their collection of nuggets and various fancy specimens in all the large towns, infected great numbers of people with the gold-hunting mania. Just at this time, April, 1851, came the world-startling news of the great gold discoveries in Australia. Many rich pockets of gold have been found by accident. One of the richest of the pocket mines in California was that struck in the Morgan mine on Carson Hill, Calaveras County, from which $110,000 was thrown out at one blast. The gold so held the quartz together, says a writer in Mining Reporter, of Denver, that it had to be cut apart with cold chisels. It is estimated that this mine yielded $2,800,000 in the years 1850 and 1851, and new pockets have since been discovered almost yearly somewhere in the peculiar formation at and about Carson Hill.
The telluride veins of Sierra County, extending from Minnesota to the South Yuba, have been prolific of pockets. A big pocket found in the Fellows mine, on this belt, yielded $250,000. Several other pockets yielding from $5,000 to $50,000 have been found in this region. Many rich pockets have been found about Grass Valley, Nevada County ; Auburn, Placer County, and Sonora, Tuolumne County. The Reese pocket, Grass Valley, contained $40,000. This sum was pounded out in a hand mortar in less than a month. Near Grass Valley a pocket that yielded $60,000 was found by a sick "pilgrim," who was in search of health and knew nothing about prospecting or mining.
The Green Emigrant pocket vein, near Auburn, was found by an emigrant who had never seen a mine. It yielded $100,000. This find was made within thirty yards of a road that had been traveled daily for twenty years. No more pay was found after the first pocket was worked. The Deval pocket, in Sonora, alongside the main street of the town, yielded $200,000 in 1879. It was nearly all taken out in three weeks. The "grit specimen," also known as the Fricot Nugget, shows beautiful aborescent crystallization, was sent to the Paris World's Fair Exposition in 1901. It was found near found in Spanish dry diggings, El Dorado County, weighed over 201 ounces and contains about $4,000 in gold. It is believed to be the largest California gold nugget still in its original condition. About $8,000 additional of the same kind of gold crystals was taken from the same pocket. The formation at this place was slate and a fine grained sandstone, filled with crystals of iron pyrites in cubes.
In American Camp, between the forks of the Stanislaus, in 1880, Le Roy Reid found a pocket in the "grass roots" from which he took out $8,200. Near Magilla, Butte County, in 1879, a pocket paid its finder $400 for two hours' work. Magilia is also the home of the famous Willard or dogtown nugget which weighed over 54 pounds, or 648 ounces. In the early 1970s, the Mojave nugget, which weighs 156 ounces was found in the deserts of Kern County near Randsburg using a metal detector. It is believed to be the largest nugget found in the lower 48 states with a metal detector.
Note that all the dollar amounts noted above are figured on a gold price of $20.67 per ounce, long the official US government price for gold.
Continue on to:
Large Nuggets, Part I: North Carolina
Large Nuggets, Part II: California
Large Nuggets, Part III: Western US States
Large Nuggets, Part IV: Across the World
Large Nuggets, Part V: Australia
Return To:
All About Placer Gold Deposits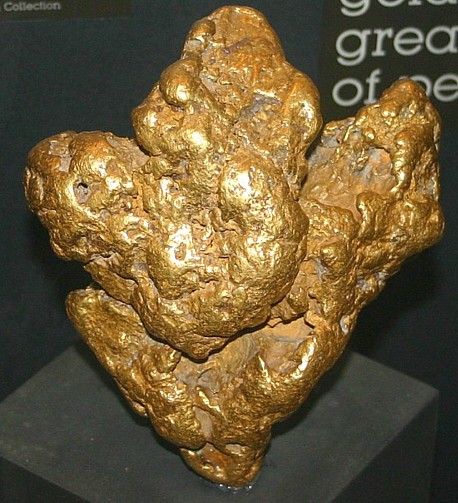 Above: The Mojave Nugget Of California: 156 ounces