Large Nuggets of the other Western States (besides California):
Colorado's biggest nugget, known as "Tom's Baby," weighing 156 ounces, or 13 pounds troy, was taken from the Gold Flake mine on Farmcomb Hill, Summit County, Colorado, July 23rd, 1877. We have been unable to get reliable information with reference to other great nuggets found in Colorado, but we learned that one cold January long ago, a man in Denver found a nugget worth about a dollar in the craw of a turkey gobbler. An effort to locate the ranch where the gobbler spent his happy boyhood days failed, and that placer ground, so far as known, is still to be discovered.
Montana showed a collection of nuggets worth $12,000 at the Paris Exposition in 1901. The biggest of them is of the size of a small paving block and weighs five pounds. It is worth $1,050. One beautifully symmetrical specimen in the collection weighs 48 ounces, and is so pure that it is worth $21 an ounce, or $1,000, while there are three others that weigh from 45 to 20 ounces each. Four or five more go above ten ounces and a dozen more above two. There are thirty-eight nuggets of about an ounce each and forty of smaller size, besides a pound of dust purer than if filed from a double eagle. A handful of sapphires and another of rubies, all Montana specimens, complete this collection. Nuggets assaying $15 an ounce, one having a value of $29, were found this summer in Confederate Gulch, near Diamond, Montana. The mine from which they were taken is producing the richest gold ore smelted in the State. The ore is found in narrow seams which are sometimes only a quarter of an inch wide, but are almost virgin gold. Montana's largest nugget, however, was found by Ed Rising at Snow Shoe Gulch, on the Little Blackfoot River. It was worth $3,356. It was dug from 12 feet below the surface and about one foot from bedrock.
Nevada: Although it has produced vast amounts of lode gold, thus far Nevada's record for big nuggets is not particularly remarkable. The largest found in that famous mining State was taken from the Osceola placer mine in the 1860s, many years ago. It weighed 24 pounds and was valued at $4,000. One of the laborers stole it, but, repenting of his crime two months later, returned $2,000 in small bars to the owners all that he had left of the glittering chunk. A nugget worth $2,190 was found on the same property about 1899. Currently, Nevada yields a number of very spectacular crystal specimens from the Round Mountain Open Pit mine in the central part of the state. Spectacular specimens were also recently mined near Olinghouse in Washoe County.
Arizona, while forging to the front as a copper producer, has not been especially productive of famous nuggets up to this time. In 1899, some Indians found one worth $900 in Horseshoe Basin, a canon in the foothills of the Quijoroa Mountains, fifty miles south of Tucson. The discovery made quite a sensation. Two hundred Indians went to work in the diggings, which is in their reservation, and many finds of smaller nuggets were reported.
New Mexico: On the Ortiz grant,' in New Mexico, where Thomas A. Edison tried his dry electrical process of extracting gold, large nuggets were found by the old Spanish gold seekers. Some years ago a nugget worth $1,300 was picked up after a rain-storm. Occasional pockets have been struck which have produced several hundred dollars of gold. Many believe the Ortiz grant to be one of the greatest deposits of gold-bearing gravel in the world. The findings of an English mining expert showed, first, that at least twenty millions of dollars could be washed from the 20,000 acres of gravel; and that, to bring the waters of the Rio Grande River, distant nine miles, to the highest point on the property, an elevation of 2,500 feet, it would cost two and one-half million dollars.
Alaska: The state of Alaska has produced millions of ounces of placer gold but only a handful were in the 100 ounce range or larger. The largest nugget found in the early days was from Nome. It was taken on Anvil Creek and weighed in at 182 troy ounces. It was dug in1903 by the Pioneer Mining Company and stood for many years as Alaska's largest nugget. Other nuggets found in the early days include one of 146 ounces and another of 137 ounces found in the Hammond River near Wiseman. Other large nuggets taken from around Nome in the early days included chunks of 107, 97, 95 and 84 ounces. The largest nugget from the Fairbanks District weighed in at 81 ounces.

Alaska, however, has considerable more ongoing commercial scale placer mining activity than all of the lower 48 states combined, and large nuggets continue to be found there. In fact Alaska's largest gold nugget was not taken in the early days, but in recent years. In 1998, a 294 ounce chunk of gold that was named the Centennial nugget was taken near Ruby, Alaska. A 122 ounce piece was taken at Gaines Creek, near McGrath in 1985. In 1984, a 92 Ounce nugget was
found on Glacier Creek near Kantishna, Alaska. All this goes to show that with the recent increase in gold prices, renewed placer mining activity in Alaska may well lead to the discovery of more very large nuggets in future years.

Continue on to:
Large Nuggets, Part I: North Carolina
Large Nuggets, Part II: California
Large Nuggets, Part III: Western US States
Large Nuggets, Part IV: Across the World
Large Nuggets, Part V: Australia

Return To:
All About Placer Gold Deposits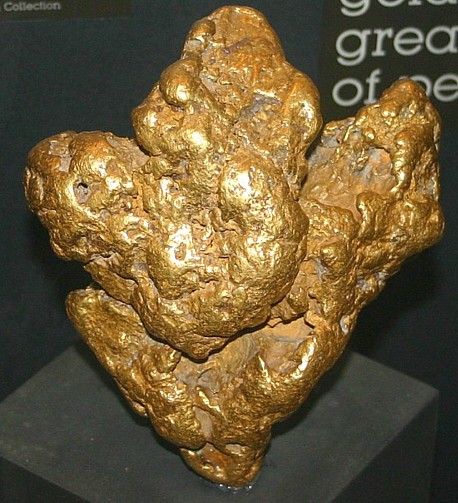 Above: The Mojave Nugget Of California: 156 ounces